By Thomas Zuck,
FOR THE TRIBUNE-REVIEW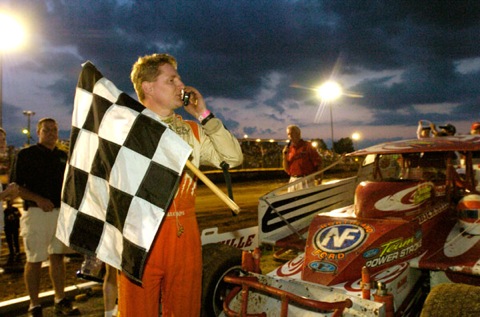 The mass e-mailing was as blunt as it was surprising. In November, Kevin Bolland and his team sent out a notice that read that they were having a garage sale to empty the team's racing garage, a garage that has helped him win more than 100 V-8 Modified features — 47 at Lernerville Speedway — and eight track championships.
"We did have a big garage sale, and sold off a bunch of extra stuff we have accumulated over the years," Bolland said. "We had thoughts of getting a Late Model ride and after, I guess, 27 years running the Modified, we had a lot of stuff that was sitting around that was still good equipment."
Bolland's success on the track has not gone unnoticed. Later this month, he will become the first person associated with auto racing inducted into the Beaver County Sports Hall of Fame. The ceremony will be held April 18 at Fez in Hopewell Township.
"We had some inquiries from people about running their Late Model, but I don't want to just drive a Late Model," Bolland said. "I want to be in a car that is capable of being a top contender. I know it will take a little time, but I feel we bring enough to the table and have had enough success in the Modified that we could do it."
The bad economy that's still plaguing the country did not spare the local racing community. No matter what division, track or traveling series in which a driver wants to take part, economics dictate what a team can do each season. And the fact that Bolland has spent his entire auto racing career in a Modified makes it tougher.
"Things didn't pan out the way we had hoped to have happen," Bolland said. "When you look at it, it's really silly to be sitting here in Pennsylvania and not in New York, which is the home of Big Block Modified racing. It really is too expensive to run a Modified for what we get paid in this part of the country.
"As it stands right now, we are planning on running the Modified, but we will not be running for points anywhere. To do that, you have to commit to being there every night, and I just don't think right now that it is worth it for us. At Tri-City and Lernerville, we were second in points and I think we took home $1,000 for second from Lernerville and $1,100 from Tri-City. That was the check we got from the point funds.
"When you look at costs right now, there is a lot more than that," Bolland added. "I said to my guys that I could just take a night off and save myself $1,000 in wear and tear on the car. To run at one of these big shows, you have to run fast and run hard. When I do go to one of those big shows, I have to have equal or better equipment than the rest of the field."
That is one of the reasons Bolland and his team began to consider the Late Models, that and the amount of success the team has had makes this another challenge.
"The motor program in Late Models is a big-buck deal, but I feel our team brings a lot to the table. We have run both the Big Block and the smaller blocks in the Modified, so we can do it. In our Modified racing, we have primarily run the Big Block. I've never set foot in a Late Model, though, but we'd go for the Super Late Models."
Lernerville is the only track in the United State that runs the big three — Sprint Cars, Super Late Models and Big Block Modifieds — on a weekly basis and even though the track has a terrific Modified history, the Late Models have been the hot division for the past several seasons.
"I am not really sure what is the future of the local racing scene for the Modifieds," Bolland said. "I know that people can see me as a villain if that is what helps drive people to the stands, but they can't actually make me be a villain. We are certainly not getting out of racing, and we will be in the Big Block Modifieds this season, and not until someone wants to bring along a good Late Model package that we think can work."
There is another issue that has been subject to much misinformation since last season's running of Super DIRT Week at Syracuse. The issue is still not resolved but one aspect of the fallout is certain, according to a representative of Modified Tour Inc., Bolland has been given a lifetime ban from serving as the tour's representative at Super DIRT Week.
That does not mean Bolland is banned from Syracuse, just that he can't represent Modified Tour Inc. with its spot in the show. Bolland did not run for the Modified Tour championship last season, so he might again pick and choose which series races he wants to attend. The same is true in picking and choosing what local races he wants to attend.
"You know if we want to go up to New York and race in a couple of big shows and then not have to run back home and worry about points at a track, we will do that," Bolland said. "But we like to run locally, too, because our fans are always looking for us. Probably as many love me as hate me."